Scenic, spacious, peaceful, and accessible, Fetch Dog Park is the perfect place for dogs to play and for owners to bond with their dogs.
Within the secured entry are 5 acres, fenced into three areas:
Large dogs—over 30 lbs.
Small dogs—30 lbs. or less
The John C.Mason, Jr. Special Needs Area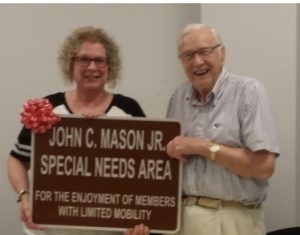 The spacious large-dog and small-dog areas each have a water station, waste bags and disposal bins, and sheltered seating.
The special-needs area is for the enjoyment of members with mobility issues. This area has accessible entry via concrete pathways and seating areas. Handicap parking space is provided. Future plans for this area include the addition of a sun-shelter for the seating area. This special area of the park can also be used by owners who would like to keep their dog separate from other dogs that happen to be in the park on any given day.
Serene Espenscheid Park surrounds the dog park and offers an extensive trail system in a woodland setting, abundant with wildlife, prairie grasses, and Stoney Creek.
Park Amenities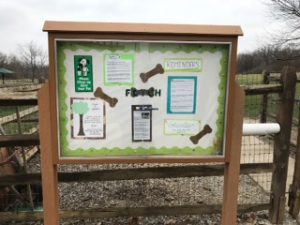 Park hours dawn to dusk
5 fenced acres
Security gate entrance with separate double gated areas for large and small dogs.
Special needs area handicapped accessible with cement pad
Water available for dogs
Benches with umbrellas and tables
Waste station with dispensers bags and trash cans
Located in beautiful Espenschied Park on North Kimball off Voorhees Street in Danville, Illinois
Landscaped and well maintained
Reasonable annual membership dues
Location & Driving Directions