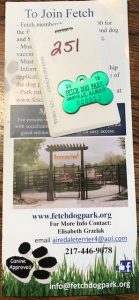 A Fetch Dog Park Tag must be purchased for each dog the owner intends to bring to the park. This tag must be purchased annually and will be color coded and numbered specifically for FETCH Dog Park.
The registration process includes a waiver of liability. There will be a signature page to acknowledge compliance. This requirement is to insure that all of our members are aware of their responsibility.
Dog owners should not bring more animals to the park than they can safely control. All dogs must have a current rabies vaccination certificate or present a current rabies tag.
Please consult your veterinarian for his recommendations for your dog. Bordetella (kennel cough) is recommended by some veterinarians.
Please read our complete list of Rules & Regulations before submitting an application for membership.
Regular Members
This membership is for a dog owner who intends to use Fetch Dog Park.
First dog: $30
Second dog: $15
Additional dogs: $10 each
To order your tags, please submit the following:
Completed registration form. Click here to download registration form. (.pdf | .docx)
A current​ copy from your Veterinarian of your dog's proof of vaccinations (DHLPP including rabies) ​Bordetella vaccine is optional.  Note: If your dog was not vaccinated at a Veterinarian, please also include a copy of the Illinois Department of Agriculture's Official ​Registered​ Rabies Certificate, Vermilion County.
Check or money order made payable to Fetch Dog Park.
Please mail to:
Elisabeth Grzelak
Fetch Dog Park
12 Newell Ave
Danville, IL 61832-1404
Please Note: The Leadership Team may raise the fees if more income is needed for upkeep and maintenance.
Honorary Members
This membership is for a person who wishes to donate funds to support Fetch Dog Park but does not intend to use the park. Honorary members may attend meetings of Fetch Dog Park Advisory Group and may vote at the meetings, but an honorary member cannot hold an officer position or be a member of the leadership team.
Donations will be accepted in the form of check or money order made payable to Fetch Dog Park.  Contributions should be mailed to:
Elisabeth Grzelak
Fetch Dog Park
12 Newell Ave
Danville,Illinois 61832-1404
Please Note: Donations are not tax-deductible.
Out of Town Park Visitors & Guests
If you would like to bring your dog(s) to Fetch, please contact Elisabeth Grzelak using our contact form.
Public Notice
PLEASE BE ADVISED the FETCH PARK ASSOCIATION Board of Directors, at its annual meeting on June 1, 2010, elected to empower anyone authorized to sell Fetch Park Dog Tags the sole and exclusive right to deny the sale of a dog tag to anyone who does not have the required current certifications from a licensed veterinarian, has a record of dog abuse, neglect or misuse of a dog and/or is found to not be a responsible and courteous dog owner.
Dated this 1st day of June, 2010.
Ss: John C. Mason Jr. Darrel D. Jacobs
Co-Directors FETCH PARK ASSOCIATION